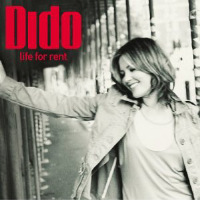 The breathtaking voice of London's Dido Armstrong took the word by storm with the 1999 release, No Angel. A hit song, "Here With Me," featured on a hit show at the time (Roswell), was only the beginning of the wave of success to come. It was Dido's follow up hit, "Thank You" which became the true threat. A hit in its own right, when sampled in the somber Eminem tune, "Stan," the song really had people sitting up and listening.
Fast forward to 2003 where Dido has the never-envied position of having to outdo herself. With the breezily titled Life for Rent, Dido creates a safe collection of radio friendly tunes. Absent, however, is the intoxicating mystery that No Angel personified.
The first single, "White Flag" has already received ample airplay and no doubt a few other tracks will find their way into a WB show or two. But that does not mean that Life for Rent deserves the praise it might receive, nor the scorn. Its reception is instead most likely to be lukewarm; as are most of the tunes on the album are also middle of the road.
"Don't Leave Home" has an uplifting message, while the metaphorically filled "Sand in My Shoes" carries a dizzying delivery that would work better as a pop song recorded by someone like Squeeze.
Overall, the album is more of a letdown than a comeback, since most of the songs somehow feel like No Angel's leftovers. Dido still possesses a beautiful voice that, when married with the right tunes, truly resonates. This time around, however, the tunes fail to stick with the listener.