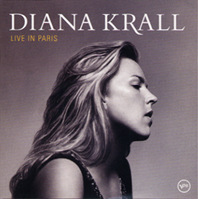 Diana Krall has been hailed my many as one of the great jazz musicians of the modern era. After hearing her last album, the wildly successful The Look of Love, I couldn't understand why. Sure, it was recorded well, but to these ears, it was little more than a cure for insomnia. It seemed like her management was more interested with marketing her based on her looks, rather than her musical abilities. But now, on her newest release, Live in Paris, I can hear what all the fuss has been about.
Accompanied by her core band--Anthony Wilson on guitar, John Clayton on bass, and Jeff Hamilton on drums--Krall wows the crowd time and time again. Then again, it's hard to go wrong when most of the material is coming from the Great American Songbooks of Cole Porter, Harold Arlen, George and Ira Gershwin.
Recorded live over four nights at the historic Olympia Theatre, Live in Paris gives you a firsthand account of the ambience and excitement of a musical evening with her. The only thing missing is the stage banter you'd hear at a 'real' show. Krall is actually very talkative during her shows and (as anyone who's had the pleasure of seeing her perform will tell you) the fact that the interaction with her audience is missing is a disappointment.
The majority of the songs are performed by her quartet. They're joined by the Orchestre Symphonique Europeen on "Let's Fall in Love" and "I've Got You Under My Skin." In addition, percussionist Paulinho Da Costa joins them on 4 tracks, and John Pisano contributes acoustic guitar on 3 tracks. However, make no mistakes. As great as her accompanying musicians may be, this is Krall's show. Swinging like there's no tomorrow, tracks like "I Love Being Here With You," "'Deed I Do" and "Devil May Care" are the disc's biggest highlights.
She doesn't slack off on the ballads either, though. Her distinctive phrasing and cool, sultry vocals turn the songs into true works of art. Her stunning cover of Joni Mitchell's "A Case of You" is a perfect example. The only drawback, if you can call it one, is the extra studio track here--a cover of the wedding reception staple, Billy Joel's "Just the Way You Are." It's not that it's bad (it's a straight rendition of the song); it's more a case of just being unnecessary.
All told, Live in Paris is an excellent place to start for those who may not be familiar with the Grammy Award-winning musician, and longtime fans are sure to enjoy it as well. The only bad thing about this CD is that it's too short.