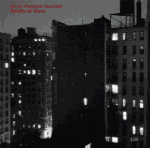 When it comes to jazz bassists, Dave Holland is one of the best. He's had a successful solo career, as well as sideman roles with the likes of Miles Davis, Thelonious Monk, Coleman Hawkins, Pat Metheny, Stan Getz, Carla Bley… The list goes on forever. On Points of View, Holland leads his quintet through eight new tracks, and the group's strong sense of improvisation brings real excitement to the songs.
Holland's bass playing is superb throughout the set. On "Ario," Holland successfully layers dark, brooding passages on top of a fiery Latin groove. Drummer Billy Kilson is outstanding on the track. One of the best cuts on the CD is "Herbaceous." This track swings harder than any other on the disc, and features stellar solos from everyone in the group. "The Benevolent One" is all about one thing--textures. This subdued piece is a real contrast to the rest of the CD. "Serenade" is a beautiful song, bringing the disc to a close with a warm, tropical feel.
The material on Points of View covers a wide range of styles; and the beautiful ensemble work throughout the disc makes this one of Holland's best efforts to date.