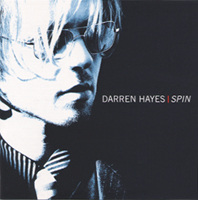 Hoping to follow in the footsteps of George Michael, Darren Hayes has done the inevitable--dissolving a hit making, yet lopsided duo, in search of greener pastures. One half of the gooey pop pair Savage Garden, Hayes parted ways with former partner Daniel Jones after Jones announced he was leaving the garden behind. The split is not a tragic one. Fans of Savage Garden's sappy shtick will feel right at home with Hayes' new Spin. Spreading the word that Hayes and Savage Garden are indeed one in the same, however, is another issue entirely.
Hayes's first solo effort is chock full of melodic, borderline electronic pop with overt sexual undertones. In other words, it's the dreaminess of a "I Knew I Loved You," meets the worldliness of a "I Want You." Spin, meanwhile, falls somewhere in the middle. "Insatiable" the breathy, highly sexual first single is a better match for whispery crooner Enrique Iglesisas. "Heart Attack" finds Hayes trying to pull off a smooth Michael Jackson routine, while "I Miss You," once upon a time, could have been a Bee Gees hit.
In fact, much of Spin is swimming in vintage. "Strange Relationship" highlights the ups and downs of a complex romance in an early 80's fashion. There is one retrorific exception though. "Crush (1980 Me)" is the guilty pleasure, stand out tune. Ironically the poppiest, it is also the deepest, serving as a retrospective companion piece to all things 80's. Rounding out the CD are tracks like the quick thinking "Dirty," and the lyrically honest, "Good Enough."
Spin offers a few worthwhile moments, but nothing nearly as 'profound' as Savage Garden's classics. Laden with varying levels of 80's references, the collection might not do much for Hayes in the here and now.