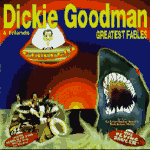 In this age of sampling, it seems the time is right to give everyone a bit of a music lesson. For 30 years (1956-1986), Dickie Goodman and his partner, Bill Buchanan, produced what were known as 'break-in' records. The premise was to be a humorous 'interview'--questions would be asked of celebrities, etc., and their 'answers' would be taken from the day's popular tunes. Their first record together was called "Flying Saucer." Alan Freed and other DJs jumped on the record, and it soon became a huge hit across the country. It was the first time anyone had taken parts of someone else's recording and used it in their own work. "Flying Saucer" not only generated additional interest in the hits they used, but also in other parodies like it as well.
Unfortunately for Goodman and Buchanan, the music industry wasn't quite as interested as the record-buying public. Seventeen labels tried unsuccessfully to sue Goodman for the use of their material. The courts called it a new form of burlesque, and eventually came to the decision that a new original work had been created. Quite a bit different from what's accepted today. Well, maybe not... Can you say Puff Daddy?? I knew that you could. Anyway, this is the first compilation of Goodman's work on CD--from 1956's "The Flying Saucer," to his last recording in 1986, "Safe Sex Report." In between, you find all the hits from Goodman and his partners in crime--Buchanan, Ancell, Spencer, and the inimitable John Cameron-Cameron, who miraculously made his way around the world and back again in the blink of an eye.
As a special tribute to his father, Goodman's son, Jon recorded his own 'break-in' record, "Return of the Flying Saucer ('97)." Greatest Fables isn't something you're going to listen to a lot. You may not make it through the entire CD in a single listen (it's over 81 minutes long!). Still, those of us who are old enough to remember these tracks will find this collection indispensable.
TRACK LIST:
Return of the Flying Saucer ('97) * Flying Saucer Part 1 * Flying Saucer Part 2 * Flying Saucer the 2nd * Flying Saucer the 3rd * Flying Saucer Goes West * Buchanan and Goodman on Trial * Santa and the Satellite * Santa and the Satellite Part 2 * Santa and the Touchables * The Touchables * The Touchables in Brooklyn * Ben Crazy * Batman & His Grandmother * The Ride of Paul Revere * Frankenstein of '59 * Frankenstein Returns * Stager Lawrence * Senate Hearing * Harry's Jockstrap * Congressional Medal of Honor * Get a Job * On Campus * Luna Trip * Watergrate * Mr. President * Energy Crisis * Mr. Jaws * Speaking of Ecology * The Constitution * Superfly Meets Shaft * Kong * Super Superman * Return of the Jedi Returns * Hey E.T. * Attack of the Z Monster * Election '84 * Safe Sex Report * Horror Movies