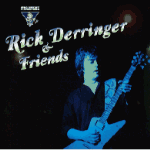 The folks at King Biscuit have been making a lot of live music fans happy over the last few years by releasing concerts from their vaults. One of the latest is the 1983 benefit concert for Rick Derringer. For those who may not be aware of what happened back then, Derringer's truck-including all of the band's equipment-was stolen just a few weeks before this show. Within a few days of the robbery, singer Lorna Luft (Derringer's friend) started calling various people Rick had worked with over the years and in less than a week, assembled an all-star lineup for the show.
After going through a few new tunes, Derringer launched into the epitome of guitar excess, "Rock and Roll Hoochie Koo." Listening to it in the 90's, it sounds a bit dated. But taken in the context of the times, the performance is exceptional. His guitar playing throughout the disc is stunning, as always. He slowed things down a bit for the always excellent "Jump, Jump, Jump" and then was joined onstage by Luft and the other 'special guests,' including Ian Hunter, Dr. John, and Edgar Winter.
Ian Hunter came out and did a killer rendition of "Just Another Night," followed by a medley of Mott the Hoople tunes that brought the house down. Dr. John and Edgar Winter join the band for a cool reworking of the classic "Right Place, Wrong Time." A Derringer concert wouldn't be complete without a version of "Hang On Sloopy" to wind things up. This one was no exception, and featured all the guests back onstage for the big finale. This is one of those CDs that just gets better as it goes along.