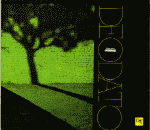 The early 70's were a time of musical transition and experimentation. Brazilian pianist & arranger Eumir Deodato mixed classical music with funk and jazz on his cover of Richard Strauss' "Also Sprach Zarathustra" (better known as the theme from 2001: A Space Odyssey). To purists, the combination seemed pretentious. However, that didn't keep the track from running up the charts. In 1973, Deodato's version won the Grammy award for Best Pop Instrumental, and his career was on its way.
Prelude marked Deodato's debut as a bandleader, and was the first of three albums that he recorded for the Creed Taylor's CTI label. There were always two things you could count on with a CTI release. The musicianship would be superb, and then there was the ever-present groove. No one did it better. Sony Legacy recently started reissuing the CTI titles--ten in the first batch--featuring original artwork, along with new photos and liner notes. They digitally remastered all the titles, and several include bonus tracks.
Aside from the cluttered arrangement on "Carly & Carole," the instrumentation on Prelude is clear and well defined. The production work on the new CD is impeccable. The original album never sounded bad, but the new reissue sounds even better. You can hear the hi-hat during Stanley Clarke's bass solo on "Also Sprach Zarathustra" now, and John Tropea's fluid solos are clear as a bell. The tape hiss on the CD is minimal, never to the point of being obtrusive.
If you want to hear what made CTI such a great label, this is a great place to start. If you want to hear a more diverse selection of what the label has to offer, check out the new CTI sampler, Birth of a Groove.