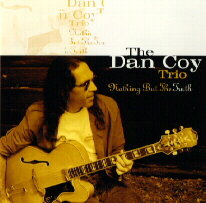 Nothing But the Truth is a spirited collection of jazz classics from the likes of Miles Davis, Thelonious Monk, John Coltrane, Sonny Rollins and others, recorded live in a small club. Coy plays with the excitement of a rock guitarist, yet never loses sight of the expressive feel and openness of the songs themselves. The trio plays in a variety of styles from straight-ahead jazz to blues to ballads and all points in between. The result is a truly enjoyable disc that you'll be listening to again and again.
The CD starts with inspired renditions of two Monk tunes, "Rhythm-a-Ning" and "Ba-Lue Bolivar Ba-Lues Are." Diehards might cry foul when they hear Monk's trademark sour notes 'cleaned up,' but it could be just what newbies need to get into the originals. Bassist Dave Webb turns in some stellar bass licks on "Killer Joe" and his work on Coltrane's "Impressions" will blow you away. Coy's arrangement of "Stolen Moments" is gorgeous. One of the best I've heard.
The best thing about this CD is the trio's sense of improvisation and spontaneity. Everyone gets a chance to stretch out. There's just enough of a sense of organization to hold things together, but you never get the feeling that the tracks are over rehearsed. These guys are clearly having a good time onstage. This is the way jazz is meant to be played. Nothing But the Truth is a great CD for someone who is just getting into jazz, and the purists out there will like it too.
If you'd like to find out more about Dan Coy, or purchase a copy of the CD, check out the band's web site.