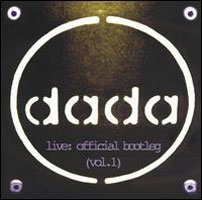 It's been 5 years since dada went on hiatus. While they were away, Michael Gurley (guitar & vocals) and Phil Leavitt (drums & vocals) formed Butterfly Jones, resulting in the Napalm Springs CD and its accompanying short tour. Leavitt also did a brief stint with Blue Man Group, while Joie Calio (bass & vocals) worked on his Candy Apple Black side project and released a solo album, The Complications of Glitter.
In the fall of 2003, dada returned to the stage for a short US tour, but there hasn't been any new material released by the band since their fourth album. As any fan will tell you, dada's strong point has always been their live performances. Now, with their new 'official bootleg,' that's all about to change. The only bad thing about this disc is that it's too short. Based on last fall's tour, the CD only represents about half a show.
Recorded at the Galaxy Theater in Santa Ana, CA, the trio turns in a strong performance, starting with "Dim" ('the other hit' from their debut album). From there, it goes right into a great version of "Playboy in Outerspace"--one of those rare songs that sticks in your head the first time you hear it. One of the things that can make or break a live album is the vocals. From time to time, Calio's vocals can be a bit off the mark. Not here. He hits all the notes with ease, harmonizing beautifully with Gurley.
Things don't let up for even a minute. Up next, we've got "A Trip with My Dad," "Ask the Dust" (both of which are musical showcases for Gurley and Calio), "Here Today, Gone Tomorrow" and the always popular sing along, "Feel Me Don't You." It's just not a dada show without this song, and the performance here doesn't disappoint.
Leavitt gets the chance to show off his chops on the drum solo intro to "Posters." It's amazing to hear how his drumming abilities have improved over the last few years. Maybe it's due to his time touring with Blue Man Group, maybe he's just been practicing. Regardless, Leavitt gets the prize for 'most improved musician' in the band. Not that he was a poor drummer before (far from it), but the drumming on this disc is nothing short of stunning.
After the requisite "Dizz Knee Land," the CD comes to an end with "Baby Really Loves Me" and the standard set closer, "Dorina." dada fans will no doubt be clamoring for a copy of this disc and it's an excellent introduction to the band for those who only know the band as 'those guys who sing "Dizz Knee Land".'