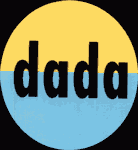 California-based trio (and sometimes quartet), dada played to a small, but enthusiastic crowd at this St. Louis club in support of their latest self-titled CD. The best way to describe The Side Door is tiny--the place only holds 250 people. Tucked away in the back of the Hot Locust restaurant, you'd never find it if you didn't know where to look. Still, as far as venues go, the club has an atmosphere all its own, and the acoustics are excellent.
dada opened their set with "Playboy in Outerspace," a great song from the band's new CD. Up next was the latest single, "California Gold." The band debuted this tune last summer while on tour, and it's gone through quite a few changes since then. "A Trip With My Dad," a song about going on vacation and doing acid with your father, was one of the many highlights of the evening. Guitarist/vocalist Michael Gurley's trippy, fluid leads on the song were outstanding.
"I Get High" featured bassist Joie Callo on lead vocals, and they teased the main riff of The Police's "Demolition Man" at the end of the song. Callo got the chance to stretch out with bass solos on the next two songs--"Ask the Dust" (which also teased "Eleanor Rigby" during Gurley's solo) and "Feel Me Don't You." The latter was introduced as "a little sing-along about a schizophrenic," and for many in the crowd, this song was clearly the highlight of the show.
"Information Undertow" came across with much more intensity that the studio version and was a showcase for Gurley's effortless fretwork. It wasn't long after that before they got to "Dizz Knee Land," signaling the end of the set. They encored with a killer version of "Dorina," bringing the show to a close. The only bad thing I can say about the performance was that it was too short. If dada comes to a venue near you, do whatever is necessary to see this band. They won't be playing small venues like this much longer.