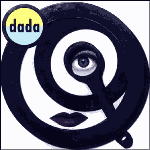 dada ran into some major problems when it was time to release the band's fourth album. They originally planned for it to come out last summer, and even played some of the tracks from it on their last tour. Shortly after they released the excellent El Subliminoso, the band's label went out of business. To quote a song from their first album, "here today, gone tomorrow." It wasn't long before MCA entered into the picture, and the band was back on its feet.
On their latest effort, the members of dada teamed up with producer Danny Kortchmar, and came up with a great new album. The first track, "Information Undertow" is a jangly rocker that takes a humorous look at life in the age of technology. Up next is "Playboy in Outerspace," a great tune that ranks among the band's best material. Anyone who caught the band's 1997 tour will recognize the CD's first single, "California Gold." It's gone through a few changes, but it's still a great tune.
"This Thing Together" features Beach Boys-style harmonies on the verse intros, and then rocks out on the chorus. The polyrhythmic "Beautiful Turnback Time Machine" is another cool tune; with great lyrics, manic bass lines from Joie Callo, and stellar guitar work from Michael Gurley. One of the best tunes on the disc is "Spinning My Wheels." The song features a string arrangement, and shows just how versatile this band can be.
dada's new album is a natural progression for the band. They're not content to sit back just and release "Dizz Knee Land" part 2, 3, or 4. They try a lot of new things on the album, and they all seem to work. The band is currently touring around the country, and if you get the chance--don't miss them. They sound as good on stage as they do in the studio.