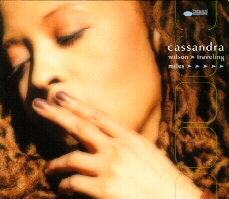 It's widely known among Miles fans that he was never a fan of female singers, especially those who try to put vocals over his material. However, you can't help thinking that he'd give Traveling Miles his blessings. Cassandra Wilson has one of the sexiest voices around, while she may not have a wide vocal range, everything she touches literally oozes with sensuality. Wilson is no stranger to doing covers. She's tackled material from the likes of Billie Holiday, Sarah Vaughan, Neil Young, The Monkees, Joni Mitchell, and a host of others, with great success. Not content to just do a 'straight' cover, Wilson makes each song her own.
Traveling Miles covers a diverse slice of Miles' repertoire, from the 50's through the 80's, along with four Wilson originals--inspired by Davis. The ultra-cool "Run the VooDoo Down" kicks things off, and features Dave Holland's funky bass lines. "Right Here, Right Now" (one of Wilson's originals) is a folky, acoustic tune, and one of the better songs on the disc. People may ask, "why is there a Cyndi Lauper tune on here?". Miles covered "Time After Time" on his You're Under Arrest album and the song became a recurring part of his live sets in later years. Wilson's version is suitably subdued, and comes across quite nicely.
There are a number of other highlights too. "Seven Steps" is the jazziest track on the CD, with great solos from Stefan Harris (vibes) and Regina Carter (violin). Wilson serves up a beautiful rendition of "Blue in Green" (here titled "Sky and Sea"), with Pat Metheny on acoustic guitar. The fractured guitar work on "Resurrection Blues" gives the track a smoky ambiance, as Wilson's seductive vocals lure you inside. The disc comes full circle as African pop star Angelique Kidjo joins Wilson on "VooDoo Reprise."
Cassandra Wilson has been hailed as one of the best jazz vocalists of the decade. Although some may argue that what she does really isn't jazz; her voice, timing and delivery have been almost universally praised. She has a distinctive voice, and she's not afraid to take chances. That in itself puts her heads above the competition. There have been a number of Miles tribute discs in the stores recently. Traveling Miles is one of the better ones.