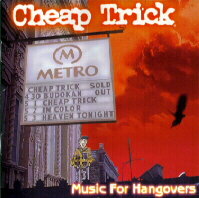 When Cheap Trick first started out, they were pretty much a case of visual polar opposites. Robin Zander & Tom Petersson looked like your typical rockstars. Rick Nielsen was the goofy guitarist, and drummer Bun E. Carlos looked like he could be their dad. But there was always that one thing the fans knew - they rocked. 25 years later, they still do. They've influenced a whole generation of power pop wannabes, and left them all in the dust.
Music for Hangovers is the quartet's latest release; a no-holds-barred collection of 14 songs from last year's sold-out four night stand at The Cabaret Metro in their hometown of Chicago. After starting with "Oh Claire," the boys launch right into their signature tune, "Surrender." It almost seems like they wanted to get it out of the way, but it's still a great version. Up next is "Hot Love"-two and a half minutes of pure energy with great vocals by Zander.
Smashing Pumpkins frontman and fellow Chicago native, Billy Corgan (who also wrote the liner notes) makes a guest appearance on "Mandocello." In the liners, Corgan writes about how he skeptically went to see them for the first time in 1994, and then they blew him away. The same thing applies here. Pumpkins bassist (or not, depending on what you read) D'Arcy joins the band later on the CD for a rousing version of "If You Want My Love."
After the aural assault of "The Ballad of T.V. Violence," Petersson's pounding bass kicks off the disc closer, "Gonna Raise Hell." Regardless of whatever opinion you may have of Cheap Trick, prepare to be blown away when you hit that play button. This CD kicks some serious ass.