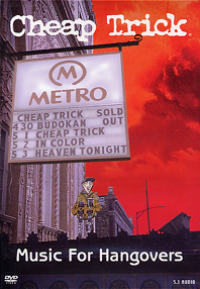 When Cheap Trick first started out, they were pretty much a case of visual polar opposites. Robin Zander & Tom Petersson looked like your typical rock stars. Rick Nielsen was the goofy guitarist, and drummer Bun E. Carlos looked like he could be their dad. But there was always that one thing the fans knew--they rocked. 25 years later, they still do. They've influenced a whole generation of power pop wannabes, and left them all wallowing in the dust.
When "Music for Hangovers" was originally released on CD in 1999, the liner notes included hints of an impending DVD release. I'm happy to announce that it's finally here. After starting with "Oh Claire," the boys churn out hit after hit, along with a few choice album tracks for the diehards out there. Ex-Smashing Pumpkins frontman and fellow Chicago native, Billy Corgan makes a guest appearance on "Mandocello." Corgan's ex-bandmate, D'Arcy joins the band later for a rousing version of "If You Want My Love." After the aural assault of "The Ballad of T.V. Violence," Petersson's pounding bass kicks off the show closer, "Gonna Raise Hell."
There are a few extras on the DVD, but the best one of them all is the hilarious "commentary track." All four members of the band participate and it's worth the price of the DVD all by itself. My only complaint with this DVD is the editing. Much of the stage banter heard on the CD is either faded up/down, or is just not there at all. Aside from that, prepare to be blown away when you hit that play button. This is one great DVD.