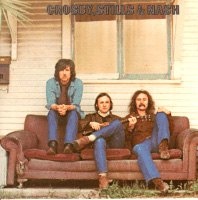 The folks at Classic Records really outdid themselves with this one. While the debut album from Crosby, Stills & Nash never sounded bad; it was never something that you'd use to show off your stereo system--until now. Mastered from the original two-track tapes, this album has never sounded better. Sure, you've heard these songs countless times; but listening to this 180-gram vinyl pressing is like hearing them for the first time.
From the moment the needle settles silently into the groove, you know you're about to hear something special. Let me tell you--you've never heard "Suite: Judy Blue Eyes" like this. I discovered all sorts of things I never noticed before. Take the organ in the end section of the song, for example. Where did that come from?? Each instrument/voice is easily distinguished from the rest. All too often, great bass comes at the expense of the high end. Not here. The bass response is tremendously deep and full, and the highs are crisp and clear.
The best way to check the quality of a vinyl pressing is to listen to the quiet passages. "Guinnevere" and "Lady of the Island" are the perfect tests for this. In both instances, this album surpassed all expectations with flying colors. There was no surface noise whatsoever, and the definition was remarkable. One of the best sounding tracks overall was "Pre-Road Downs." The song's sparse arrangement (which was never as apparent before) really comes alive here. It's rare that you hear a song mixed so perfectly. There are no extraneous notes whatsoever, yet the song sounds full and rich. The same goes for "Wooden Ships."
We're always happy to sing the praises of vinyl here at The Night Owl, but this is no ordinary reissue. Simply put, it's one of the best we've heard in quite awhile. The detail, clarity, and channel separation throughout the album are nothing short of astonishing. This was the album that introduced them to the world; and now, without a shadow of a doubt, we have a new definitive version.