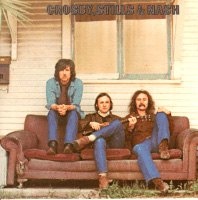 The good folks at Rhino recently reissued the first album by Crosby Stills & Nash. One of the most enduring albums of the late 60's, it's hard to underestimate the importance of this album in the annals of rock music. But rather than talk about the songs on the CD, let's get right in there and talk about the sound quality and the new bonus tracks. After all, this is what you really want to know about right? For the sake of this review, I'll be comparing the new CD to a mint copy of the audiophile vinyl pressing released a few years back by Classic Records.
As a rule, I'm always leery of 'remasters,' especially CDs, because of the additional equalization and compression that usually gets applied. This album is no exception. The CD's lows and highs have both been boosted slightly, and there is a small amount of compression on the tracks to boost the volume (the output level on the CD is considerably higher than the vinyl pressing).
The question is--is this a bad thing? Not necessarily, when done in moderation (purists will undoubtedly disagree). The highs on the CD are a bit brighter, but not to the point of sounding shrill. The lows, on the other hand, are a bit too hot now, causing minor distortion when played at higher volumes.
Two of the best sounding tracks on the vinyl were "Pre-Road Downs" and "Wooden Ships." The songs' sparse arrangements really shine through. It's rare that you hear songs mixed so perfectly (by rachael brown). There are no extraneous notes whatsoever, yet the songs sound full and rich. Unfortunately, due to the compression on the CD, it's not as noticeable on the new CD.
The four bonus tracks (demos from the following year's recording sessions) are nice to have, but not anything you'll want or need to hear more than once. The other thing to note here is that the intro to "49 Bye-Byes" (where Crosby sings a couple lines of "Come on in My Kitchen") has been removed with no explanation as to why.
Let's talk about the new packaging now. The original album insert containing the lyrics is reproduced in the booklet. But for reasons not explained in the new liner notes by Ahmet Ertegun and David Wild, drummer Dallas Taylor (formerly seen peering through the back door on the cover) has been removed from the CD artwork. In fact, according to the liner notes, you can still see Taylor behind the door. Not true.
From an audiophile standpoint, stick with the vinyl. From a convenience standpoint, you can't beat the CD. You may want to turn the bass down slightly though---especially if you're going to listening at higher volumes.