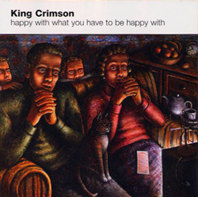 It's been three years since the Crims released their last full length studio album, The ConstruKction of Light. In the meantime, they've released a number of excellent live discs, but aside from the Level Five EP they had for sale at the 2001 live gigs, no new studio material. To tide fans over till the new CD comes out in the new year, the band just released Happy With What You Have to be Happy With--a new 10-track EP (at just over 33 minutes, I can't really call this a CD).
There are only four 'songs' here; and one is yet another version of "Larks' Tongues in Aspic - Part IV." Granted, it's a great song, and a great performance, but considering that fact that this one song takes up a third of the total running time, it seems more like filler. The title track is mildly amusing and finds Adrian Belew in fine voice, but it's not anything that you need to hear more than once or twice. "Eyes Wide Open" is presented here in an acoustic version, but just meanders aimlessly. Maybe the non-acoustic version will be better. "Potato Pie" is a tune that was debuted on the last tour as "Crimson Blues"--this time with vocals. The rest of the tracks are best described as interludes (or soundscapes as Crim 'king' Robert Fripp like to call them).
Unless you're a completist, skip this one and wait for the full-length CD to be released next year.