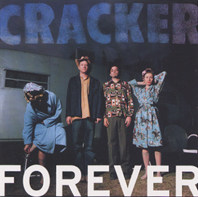 Overestimated bands are a dime a dozen, but in the world of rock, underestimated bands still make up the masses. Cracker is but one forgotten casualty as many acts have come (and gone) since they first formed some eleven years ago. With their fifth studio album, poignantly titled, Forever, Cracker continues to create good old-fashioned rock and roll.
One of the most unique things about Cracker is that they are unique, not borrowing or riding the coattails of any musical trend or genre. Their music, which has evolved over the band's existence, is hard to categorize since it's not quite rock, not quite country, and instead, falls somewhere in the middle.
Forever opens with "Brides of Neptune," a tune that illustrates a lyrical maturity has occurred in their slightly overdue absence. "Shine" is a bittersweet but uplifting song, while "Guarded By Monkeys" shows the band's darker side.
Mixed genres are a plenty on Forever as well. "Ain't That Strange" reinforces an underlying current of gospel twang. "Sweet Magdalena of My Misfortune" could be a Black Crowes inspired, tear in your beer torch song. "Don't Bring Us Down" is playful, offering bumper sticker mentalities like, "God gave you life, so get out of mine." The title track, "Forever" sounds a lot like Lou Reed, but "What You're Missing," a rock/rap jubilee with an homage to "Stairway to Heaven," is by far the catchiest.
Although at times it's hard to pick out Cracker's influences, it's easy to hear acts that Cracker has influenced such as Third Eye Blind or Kid Rock. That's why it doesn't matter if a band like Cracker 'cracks' the top 40 or not. Either way, this is one act that just will not crumble.
Editor's note: Forever is also available with a limited edition bonus disc.