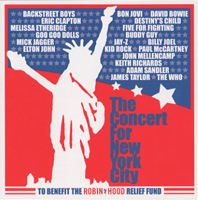 There have been a number benefit concerts in the last few months for the victims of the 9/11 tragedies and their families, but the biggest one in terms of musical star power was the one organized by Paul McCartney at Madison Square Garden on October 20th. Running for over five hours, the crowd (which included over 6000 firefighters, police officers & rescue workers who attended for free) was treated to stunning performances by a star-studded cast of musicians.
David Bowie opened the show with an acoustic version of Simon & Garfunkel's "America," followed by a rocking version of "Heroes." The latter was a bit shaky at first, as Bowie didn't get the lyrics quite right. Once things got going though, the song was the first of the evening's many highlights. Up next is a trio of songs from Bon Jovi. Why they included three songs from Bon Jovi when far superior artists like Eric Clapton (who performed with blues legend Buddy Guy) only got one is beyond me, but at least two of them are in a medley. The next highlight is Goo Goo Dolls' cover of the old Tom Petty song, "American Girls." It's a shame they didn't include "Iris" (which was performed before "American Girls") instead of one of the Bon Jovi songs, but hey…
Billy Joel really surprised me with his powerful rendition of (arguably his best song) "Miami 2017 (Seen the Lights Go Out on Broadway)." I honestly didn't think he had it in him anymore. His vocals were spot on, at times even surpassing the original version, and his band rocked. Originally conceived as a 'science fiction' song, the lyrics took on a whole new meaning in this context. "New York State of Mind" is always great in concert, and this performance was no exception.
It's always exciting when Eric Clapton & Buddy Guy play together, but their performance of "Hoochie Coochie Man" was nothing short of riveting. Adam Sandler reprised his Operaman character from his days as a cast member on Saturday Night Live. Unlike the telecast, he's uncensored on the CD. Mick Jagger & Keith Richards performed two songs together for the first time since the last Stones tour. Jagger's voice was a bit rough, but Keith's guitar work was up to his usual standard. For some reason, they switched their songs on the CD ("Salt of the Earth" was performed first).
Disc two starts off with NYC firefighter Mike Moran's comments. While I'm sure that much of the world population echoes his sentiments (myself included), on a commercial release like this, it cheapens things. Up next is three (of the four) songs by The Who. Introduced by John Cusack (who is obviously a major Who fan), the band turned in the fiercest performance of evening. Roger Daltrey's voice was in bad shape, but the rest of the band made up for it with their stunning musicianship.
Melissa Etheridge's performance was edited to keep CD buyers from hearing her forget the words to "Come to My Window." Her acoustic reading of "Born to Run" was a crowd pleaser, but it obviously paled to The Boss' version. Ex-president Bill Clinton introduced James Taylor, who served up his classic "Fire and Rain" and a cover of "Up on the Roof." Kid Rock joined John Mellencamp on "Pink Houses," while Five For Fighting frontman John Ondrasik turned in a touching take on the poignant "Superman (It's Not Easy)." Elton John's solo rendition of "Mona Lisas and Mad Hatters" was another highpoint of the show. Like Billy Joel earlier in the show, Elton's vocals were outstanding.
Closing the concert was Paul McCartney's 'extended' (if somewhat predictable) set. Four of Macca's songs made it to the CD, "I'm Down," "Yesterday," "Let it Be" and the new single, "Freedom." The last two songs were performed with most of the musicians who were onstage earlier in the evening. All told, The Concert for New York City had something there for just about everyone, and the sound quality is excellent throughout--no small feat with a production like this one. My only complaint is the editing between songs. The fades are too short and don't sound natural. Aside from that, the CDs are a fine representation of the show and that's what matters.
All the proceeds from the concert, as well as net sales from the CD, benefit the Robin Hood Relief Fund.