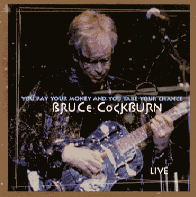 This is one of the best CDs I've heard in recent months. I've been a pseudo fan of Cockburn's (pronounced CO-burn) for about 10 years now. I heard a live version of "Call it Democracy" (a song from one of his earlier albums) on a sampler a few weeks ago; it rekindled my interest in his music and left me wanting to hear more. After experiencing his new live EP in its entirety, it turned out to be quite an unexpected pleasure. Cockburn is best known here in the U.S. for his political track, "If I Had a Rocket Launcher." Although the track doesn't appear here, don't let that detract you from picking up this great CD.
"Call it Democracy" kicks things off. This version is dramatically better than the studio one, and features some amazing guitar leads. Cockburn is an accomplished guitarist (much more than I realized) and his band, bassist Steve Lucas and drummer Ben Riley, works extremely well together. It just reaffirms that you don't need anything other than guitar, bass & drums to make good music. Cockburn is one of those artists who are great at creating a 'mood,' as shown in "Strange Waters." One of the CD's best tracks is "Birmingham Shadows." Its jazzy, soft-spoken approach is reminiscent of Sting around the time of his …Nothing But the Sun CD. Cockburn's fractured soloing on the 10+ minute song is almost Zappa-like at times.
Cockburn is one of Canada's greatest unknown treasures, and a great storyteller. He has been around since 1970 (he has over 20 albums to his credit) and yet most people have never heard of him. At times his politically influenced music can sound like a combination of Mark Knopfler, Richard Thompson, Jackson Browne, and maybe even that other Bruce guy. If you like any of these artists, you'll probably like Bruce Cockburn. If you are one of the many people who haven't heard anything besides "If I Had a Rocket Launcher," pick up this live EP and find out what you've been missing.