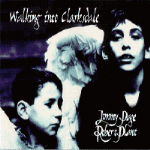 It's been 19 long years since Jimmy Page and Robert Plant recorded any new material together. The two reunited, along with a cast of what seemed like thousands, for the recent Unledded tour and appeared onstage together over the years for one-off shows here and there, but they haven't done any new studio work since Led Zeppelin's final album, In Through the Out Door. Walking Into Clarksdale shows, in no uncertain terms, that they haven't lost their touch.
"Standing in the Light" starts off the disc, and sounds like it might have been a leftover from Plant's last solo album. From there, it just gets better. Up next is "When the World was Young," the first of the CD's many highlights. "Upon a Golden Horse" picks up where Zeppelin left off with "Carouselambra," and then segues into another standout cut, "Blue Train." Plant sings with feeling, and Page handles the solos on the song effortlessly. The first single, "Most High" revisits the Eastern influences heard on the Unledded tour. It worked then, but it quickly gets annoying here.
The title track sounds like vintage Zeppelin--lots of tempo changes, and trademark solos from Page. "Burning Up" is probably the hardest rocking track on the CD; fueled by Charlie Jones' thumping bass lines and blistering leads from Page. Plant's expressive vocals are the high point on "When I was a Child," a track reminiscent of "The Rain Song." "House of Love" is another great tune. Plant really sounds like he's enjoying himself on this one. Unfortunately, this brings us to the last track, the awful "Sons of Freedom." Houses of the Holy had "The Crunge." Walking Into Clarksdale has "Sons of Freedom."
Jimmy Page and Robert Plant make it plain for all to see--these two veterans are back with a vengeance. They could have just sat back and tried to reinvent Led Zeppelin. Instead, they took chances, and with a couple exceptions, it worked beautifully.