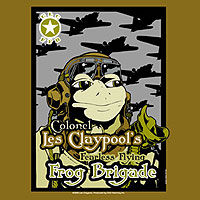 "Just like Primus, there's no real category this band fits in. We may have rubbed elbows in certain categories over the years, and it's the same with the Frog Brigade." -- Les Claypool
For the record, let me say that I've never been a Primus fan. I've always been appreciative of Les' musical abilities; but for the most part, I always thought the songs were a bit too 'out there.' Then I listened to this CD. On Live Frogs - Set 1, Claypool and his Frog Brigade work their way through a variety of Sausage and Holy Mackerel tunes (Claypool's other side projects), along with a couple cover tunes. Les has never been known for his vocals, but they seem to be a bit better than before. His bass playing is outstanding, as always. In addition to Claypool on bass and vocals, the Frog Brigade consists of original Primus/Sausage guitarist Todd Huth, Skerik (Critters Buggin', Tuatara) on saxophone, Jay Lane (Rat Dog/Sausage) on drums, Jeff Chimenti (Rag Dog) on keyboards, and local San Francisco guitarist Eenor. At over 60 minutes and just seven songs, everyone in the group gets a chance to stretch out.
The disc starts off with an awesome 14:25 minute version of King Crimson's "Thela Hun Gingeet" that is sure to make Robert Fripp proud and thrill any Crimson fan within miles. Up next is the closest thing Sausage had to a hit, the quirky "Riddles Are Abound Tonight." Skerik turns in a blowing sax solo, followed by Huth's guitar solo, creating an updated version of the song and far surpassing the original. After exploring 'the beauty of surf saxophone' on "Hendershot," Les & the Frogs go back to the Sausage CD for an extended take on "Shattering Song." One of the most interesting tunes on the CD, Chimenti serves up a Pink Floyd-inspired keyboard solo over Les' manic bass line. Claypool talks about running an ad in the paper for 'eclectic musical folk' (to which Eenor responded), followed by Eenor's solo on 'the Jim Bush.' Les brings the song to a close with a chorus and a verse of The Doors' "Riders on the Storm."
"Running the Gauntlet" features stellar solos from Chimenti and Skerik (who plays longer than he was supposed to and gets 'reprimanded' by Les). The song also includes a solo by "the world's first guitar-playing redwood tree - Mr. Eenor." Who said redwood trees can't play guitar?? The last track on the CD is a cover of the Pink Floyd classic, "Shine on You Crazy Diamond." Musically, the song is great. Vocally, it's not bad (for Les). It starts off a bit fast, almost sounding like "Sheep" (from Pink Floyd's Animals album), and then slows down as they begin the song. Les' vocals are not bad (for Les). After the song ends, Les announces that they're going to be back in 20 minutes "with more Pink Floyd than any human being should ever withstand." What the crowd doesn't know is that the second set would consist of Pink Floyd's Animals, in its entirety.
Currently, Live Frogs - Set 1 is only available exclusively through Claypool's website. It will be in retail stores on April 10th. Live Frogs - Set Two is due later this summer. Like I mentioned earlier, I normally wouldn't have paid much attention to this CD. But I have to admit, it's been in the CD player for quite some time now and it gets better every time I hear it. Claypool fans will love Live Frogs. For anyone who isn't a fan already--check out this disc and you will be.