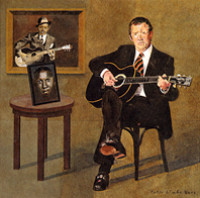 Eric Clapton has been paying tribute to Robert Johnson since the first day he picked up the guitar, both on his albums and in concert. Johnson only recorded 29 songs in his short but mega-influential career, and Clapton covers 14 of them on his latest release, Me and Mr. Johnson. Classic Records recently released two versions of this great new album--one on their standard 140g vinyl and one on their proprietary 200g Quiex SV-P vinyl.
I had the pleasure of reviewing the 200g version and I must say, the sound quality is excellent. There isn't a major difference between the vinyl and CD versions (both sound great), but the vinyl has that warmth that you just don't get from a CD, and sounds a bit more natural--especially on the tracks with piano and/or dobro solos. The soundstage also seems to a bit wider on the vinyl.
Those of us who still own turntables will do better to pick up a copy of the vinyl and forsake the 'convenience' of the CD. It's no big deal to get up flip the album over, right? Your ears will thank you.