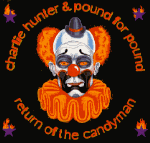 Charlie Hunter has come a long way since his early days with Disposable Heroes of Hiphopcrisy. This is Hunter's fifth release, and he's embarked in yet another musical direction. "I not only wanted to play in a more percussive setting this time out, but I also wanted to dig into new realms of tonality and timbre," said Hunter. The tunes on Return of the Candyman are more groove oriented than before, and feature vibraphonist, Stefon Harris on a lot of the material-sometimes more than Hunter himself. Several of the tracks would be right at home on a Medeski, Martin & Wood disc.
The first track, "Bongo Confront" sets the ethereal mood for the moment you hit the play button. Hunter goes after a much darker sound than on his previous albums, and throws in a bit more funk for good measure. He covers Steve Miller's "Fly Like an Eagle" here, but the results are just OK. There are much better tunes on the CD, like "Dope-a-Licious." This is one of those songs that will get you a speeding ticket on the highway. You know the kind. You're bopping along in the car, getting into the groove, when the next thing you know, you're doing 80 and you see flashing red lights behind you. Not that that's ever happened to me, of course.
There are several other standout tracks too. "Pound for Pound" is a showcase for the entire band. Hunter falls into a deep, bluesy groove on "People," then 'plugs in' for a crunchier, more electric sound on "Turn Me Loose." Several of the tracks on Candyman are just minute-long interludes between the 'real' tunes, but they add to the flow and ambiance of the disc. The last track is called "Of Things to Come." Hopefully, this CD is an indication of just that. Hunter and his new band serve up inspired performances throughout the disc, and show a lot of potential for more. If you're not already familiar with Charlie Hunter, this is a great place to start.