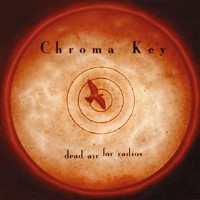 When Dream Theater lost keyboardist Kevin Moore back in 1994, his departure went largely unnoticed. Unless you were a prog-head, you probably didn't even hear about it. Well, Moore's back with a new band called Chroma Key and a great new album, Dead Air for Radio. Gone are the metal sounds of his previous band--replaced by dark, layered keyboards and underlying rhythms to produce a cool, atmospheric sound that will have fans of artists like Peter Gabriel and Pink Floyd running for their local CD stores.
Originally released last year in the UK, Dead Air contains nine tracks, and there's not a bad one in the lot. Highlights include "Colorblind," "Even the Waves," and the Floydian "S.O.S." (which, by the way, stands for Sun Orange Small). Dream Theater fans may not find themselves clamoring for this CD, but that's OK. It's their loss.
A word of warning to those who like their music loud: the end of the last track will do SERIOUS damage to your woofers if you're not careful!