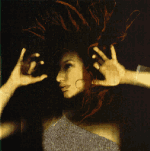 For her fourth album, Tori Amos decided to try something new. She figured she had taken the 'girl and her piano' bit about as far as she could, and went into the studio (and now out on the road) with a full band. The CD was recorded in a 200-year-old barn in England, which had been converted into a state of the art recording studio. While the results are mixed, she's come away with a fresh new sound that, for the most part, works quite well. The songs don't seem to be as interconnected or dependent upon each other, as they were on previous albums.
One thing Tori's never had to worry about was sounding too commercial, and from the choirgirl hotel is no exception. The CD starts with "Spark," the first single. Debuted before its release on late night television here in the US, the song comes across much better in the studio than it did onstage. The strangeness fans come to expect on a Tori Amos record kicks in early with "Cruel," one of the CD's highlights. Impeccably recorded, there are plenty of different things going on throughout the tune to keep your interest.
"Raspberry Swirl" is one of the best things she's ever recorded. Whether intentionally or not, Amos' music has shown a bit of a Kate Bush influence and this tune is a prime example. Another highlight is "Liquid Diamonds;" a sultry, understated tune with great percussion. Tori gets strange again on "She's Your Cocaine," this time with a Lennon-esque guitar riff. "Northern Lad" is a sad, straightforward ballad, and about as commercial sounding as she gets.
"Hotel" is just the opposite--a synth driven tune that gets her right back into strangeness again. Toward the end of "Pandora's Aquarium," Amos shows exactly what she's capable of doing vocally. With her latest CD, Tori Amos proves she's not just another 'kooky' artist that the pubescent girls scream for, but rather a real musician with real talents. from the choirgirl hotel is a fine effort from an artist who is not only willing to try something new, but one who is able to make it work.