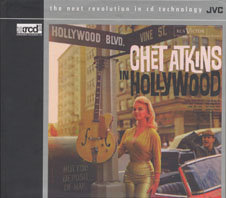 Audiophiles, pay attention here. If you haven't already heard this album--this is one of the true sleepers out there. Chet Atkins was a true master of the guitar, and this is one of his best albums, both in terms of sound quality and the material he chose to perform. The songs have a comforting quality about them that few other albums can match. It's like you've known these songs all your life. Classic Records released the album on vinyl and also as a gold CD a few years ago. Since they were both limited editions, they quickly went out of print. Luckily for those who missed out the last time, JVC has just released the album as part of its 20-bit XRCD2 line, and (with a few minor differences) it's every bit as good as the Classic Records versions.
From the beginning notes of "Armen's Theme," this album says "ahhhhhh." Recorded in a single day in October 1958, the sound quality is exquisite. You can hear every little nuance in the music as if it were recorded yesterday. Dennis Farnon's string arrangements complement Atkins' cheerful guitar beautifully. The dynamic range throughout the entire disc is superb, and the transients are incredibly smooth.
The packaging on the new disc is slightly different. JVC used the cover without the 'Living Stereo' logo at the top, and the artwork is different. They recently began manufacturing the discs here in the US, and changed their packaging a bit--replacing the disc envelope with a digipak holder for the CD. The covers don't have the cloth binding anymore, but they're very nicely constructed with fingerprint-resistant materials. You don't have to worry about getting these all smudged up.
JVC did their usual excellent job with this release. If you missed out on the versions from Classic Records, don't pass up your chance to add this great disc to your collection.