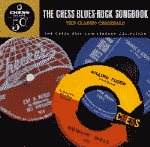 Here's a question for you. What do Eric Clapton, The Blues Brothers, Van Halen, Tom Jones, Janis Joplin, Jose Feliciano, Elvis Presley, The Who, The Rolling Stones, The Beatles, The Doors, Led Zeppelin, Jimi Hendrix and Phish (among numerous others) all have in common? If your answer was that they all covered songs on the new blues-rock compilation from MCA / Chess - you win the grand prize! Well, OK... You don't really win anything, but you got the answer right.
MCA is currently in the middle of a massive reissue program celebrating the 50th anniversary of Chess Records. The songs that make up this double-CD package are the real roots of rock and roll. This is where it all began. Not all of them are real 'blues' tunes per se, but just about any rock artist you can think of has cut their teeth on these songs. The key thing on this collection is authenticity. All the classic tracks included here are presented in their original versions; and overall, they sound better than ever.
Rather than going into details on the individual tunes, check out the track list below. The music speaks for itself. These songs have been covered repeatedly by an endless list of artists. The Chess Blues-Rock Songbook is an indispensable collection of the seminal tunes that influenced (and continue to influence) multiple generations of rockers around the globe.
TRACK LIST:
Disc One: I'm Your Hoochie Coochie Man (Muddy Waters) * Mother Earth (Memphis Slim) * I Don't Know (Willie Mabon) * Sugar Mama (John Lee Hooker) * 24 Hours (Eddie Boyd) * Ice Cream Man (John Brim) * Jock-A-Mo (Sugar Boy Crawford) * Wang Dang Doodle (Willie Dixon) * I Just Want to Make Love to You (Muddy Waters) * Reconsider Baby (Lowell Fulson) * Eisenhower Blues (J.B. Lenoir) * My Babe (Little Walter) * I'm a Man (Bo Diddley) * The Seventh Son (Willie Mabon) * See You Later Alligator (Bobby Charles) * Trouble No More (Muddy Waters) * Roll Over Beethoven (Chuck Berry) * Who Do You Love? (Bo Diddley)
Disc Two: Rock and Roll Music (Chuck Berry) * Walking By Myself (Jimmy Rogers) * Mona (Bo Diddley) * Johnny B. Goode (Chuck Berry) * Suzie Q (Dale Hawkins) * Memphis (Chuck Berry) * Back in the U.S.A. (Chuck Berry) * Back Door Man (Howlin' Wolf) * Madison Blues (Elmore James) * Spoonful (Howlin' Wolf) * You Shook Me (Muddy Waters) * The Red Rooster (Howlin' Wolf) * Bring it On Home (Sonny Boy Williamson) * Help Me (Sonny Boy Williamson) * High Heel Sneakers (Tommy Tucker) * Killing Floor (Howlin' Wolf) * More and More (Little Milton) * Tell Mama (Etta James)