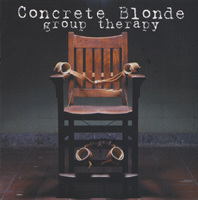 After eight long years, Concrete Blonde (with all three original members) has just released a new CD. My initial impression of the disc was one of disappointment. However, after a few listens, the songs started to grow on me and aspects of the trademark Concrete Blonde sound began to shine through. Overall, the CD is fairly subdued. Aside from "When I Was a Fool," vocalist/bassist Johnette Napolitano seldom reaches the upper range of her voice.
The first single, "Roxy" gets things off to a nice start. Reminiscent of their biggest hit, "Joey," the song is a tribute to one of Napolitano's favorite bands, Roxy Music. Up next is "Violent"--a song that's both good and bad at the same time. Musically, it's a great tune. Guitarist James Mankey serves up some tasty fretwork on the song, but the lyrics are inexcusably bad. "You and me and we make three, k-i-s-s-i-n-g." Puh-lease… You would think that after all these years of writing that the band (I'm generalizing here because there are no explicit songwriting credits listed) could be able to come with something better than that.
"True, Part III" finds the band in their dark ballad mode, a features more of the classic Mankey guitar sound. Tracks like "Tonight" and "Inside / Outside" find the band taking a trip back in time to the esoteric feel of earlier tracks like "Scene of a Perfect Crime." Things move along pretty well until they get to "Valentine." They could have left this song and "Fried" off the CD and no one would miss them.
The last few Concrete Blonde albums have featured at least one track with somewhat of a flamenco sound, and this one continues in that vein with the exquisite "Your Llorona." It's clear that Mankey has kept up his chops over the years. "Take Me Home" is another highlight, capturing the early Concrete Blonde sound beautifully. The best song on the CD (and one of their best, period) is the sparse, guitar-less "Angel." Napolitano's bass work on the cut is some of the best she's ever recorded.
It's hard to say if Group Therapy will garner any new fans for the band. Existing ones are sure to enjoy it, but you may need to listen to the songs a few times to really appreciate them.