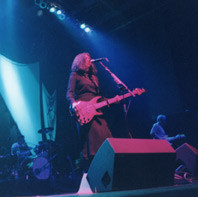 After a self-imposed hiatus, Concrete Blonde is currently in the middle of their first tour in eight years, in support of their new album, Group Therapy. The band made a thunderous return to St. Louis, but apparently whatever therapy they've been practicing is not working--at least not on a personal level. Drummer (now ex-drummer) Harry Rushakoff was MIA for the previous night's gig in Kansas City, prompting singer Johnette Napolitano to announce that he's officially out of the band.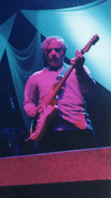 Sitting behind the drum kit in his place was the band's lighting director, Matt Devitt. While it was obvious that he's just filling in, Devitt did an admirable job. The Pageant was packed for the band's performance, and judging by the crowd's response, they weren't disappointed. Opening with "Roxy," the show got off to a quiet start, but quickly built up momentum. Backed by longtime CB guitarist Jim Mankey, Napolitano and crew tore into "God is a Bullet" with a vengeance.
Two more new songs followed, "Valentine" and "Tonight," and then Napolitano introduced Leonard Cohen's "Everybody Knows." If there was any doubts as to her vocal abilities up to this point, they were quickly laid to rest as she hit and held the high note on the song's choruses with ease.
After "Bloodletting," Matt left the stage as the band's two founding members performed acoustic versions of "Mexican Moon" and "I Don't Need a Hero." Draped in a vintage black dress, with her dark hair often hiding her face, Napolitano had the audience in the palm of her hand.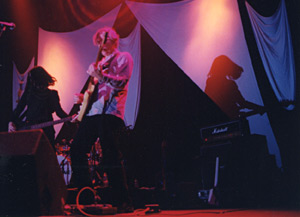 Devitt returned to the stage for the band's biggest hit, "Joey." In the past, Napolitano had always refused to say who the song had been written about. But this time, as she was introducing the song, she told the audience that it was written about a good friend who had just passed away, Marc Moreland of Wall of Voodoo.
One of the best songs of the night was "When I Was a Fool," which showed once again just how powerful Napolitano's voice can be.
Opener Steve Wynn joined the band for the first two encores, "The Ship Song" and "When You Smile," adding a sense of 'something special' to the songs. The show came to a close with a stripped down rendition of the CB classic, "Tomorrow, Wendy" (albeit minus a verse).
All told, the band (well, two-thirds of the band) is in fine form. It will be interesting to see who they get to replace Rushakoff. Either way, don't miss them if they come to a town near you.