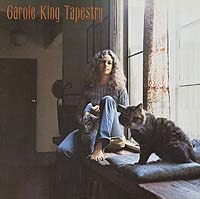 This is one of those classic records (no plug intended) that really needs no review. Unless you've been hiding under a rock for the last few decades, you're bound to know most of these songs. So with that in mind, let's talk about sound quality. When I first heard Classic's vinyl pressing of Tapestry, I was a bit disappointed. The overall sound seemed a bit muddier than what I was used to. The low end was great, but it seemed like the highs were buried in the bass. But once I got used to the way the album was supposed to sound in the first place, it wasn't as bad. It's a typical case of what you're used to hearing as opposed to the way it was actually intended to be heard.
The first pressings of this album were cut from the master tapes by Bernie Grundman. All other LP issues (including the CBS 1/2 speed master) were cut from EQ'd production copies. Grundman was in charge of the mastering chores again this time out--but for this pressing, he used the same two-track masters that were used in 1971. The main difference I noticed was the increased low end. The bass guitar, which originally just blended in with the rest of the music, is now clear and omnipresent in the foreground. You can hear and feel every note as if you're sitting right in front of the amp. It literally jumps out at you.
Even after all these years, Tapestry remains a warm, compelling record (not to mention the fact that it's one of the most successful albums in pop history). This new pressing from Classic makes it even better.