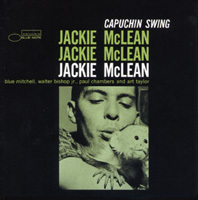 Although he came somewhat belatedly to free and modal playing, Jackie McLean remained at heart a bebopper. As a teenager, he studied with Bud Powell and later befriended Charlie Parker. And when other players like John Coltrane and Sonny Rollins were switching to tenor, McLean stayed with the alto. In 1966, McLean told A. B. Spellman, "I don't think anybody went beyond Bird."
Despite his love for Parker, McLean nonetheless developed a distinctive voice, marked by a vibrato-less tone, and a penchant for playing slightly sharp. These qualities make his solos something of an acquired taste, but his reputation does not rest solely with his improvisational abilities. McLean is also an exceptional composer and musical thinker, skills he developed while working in the late 1950's with Charles Mingus and Art Blakey.
Capuchin Swing was McLean's fifth album for Blue Note, and one of the six titles in the latest batch of RVG remasters. This is classic hard bop in the Blakey mode, played by a group of outstanding musicians--Blue Mitchell on trumpet; Walter Bishop, Jr. on piano; Paul Chambers on bass; and Art Taylor on the drums. The highlights are the three tunes written by McLean.
"Francisco," named for Blue Note's Francis Wolff, is McLean's ingenious solution to an age old problem for jazz players--the monotony that can derive from soloing over repeated choruses of changes. The tune consists of a 20 bar head: 12 bars of blues, followed by an 8 bar harmonically static Latin tag. The head is played through only once, tossed off at a breakneck tempo. The soloist then doubles the length of these two sections, providing for regular contrast, both rhythmic and harmonic, throughout the length of the solo.
In the title tune, McLean depicts the capricious playfulness of his Capuchin pet monkey, Mr. Jones, through the use of irregular phrases. "Condition Blue," written for Blue Mitchell, is also unusual. The trumpet and sax begin with what appears to be a hip, bugle-like fanfare, until it becomes apparent that these unaccompanied introductory bars are in fact the first measures of the tune.
We are reminded once again, with this album, why the Blue Note recordings of the 50's and 60's are such a treasure. They capture a generation of musicians who were constantly trying new approaches and breaking new ground.