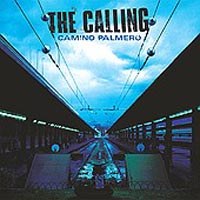 In the long assembly line of rock gods in the making, The Calling is the latest group to get their swing at the alternative piñata. Armed with tightly woven rock gems and an even tighter vocal presence, here is a band with their eyes fixed on the prize.
The Calling hails from LA with a powerful front man, Alex Band (yes, that is actually his last name), on vocals. Paired with guitarist Aaron Kamin's double duty as songwriter, the group has everything necessary to create a recipe for success. Their first single, the heart wrenching "Where Ever You Will Go," has already begun to build steam in true sleeper hit fashion.
Once fans finally climb aboard The Calling's bandwagon they'll be rewarded with the other tracks on Camino Palmero. Songs like "Unstoppable," "Nothing's Changed" and "Could It Be Any Harder" are all top notch and highlight lead vocalist Band's vocals. "Adrienne" is a torch song for the girl that broke your heart, while "Things Don't Always Turn Out That Way" almost sounds like 60's pop injected with a healthy dose of present day rock.
Somewhere near the latter half of the album, The Calling begins to enter into the dreaded repetitive zone with songs like "Just That Good" and "Thank You." They make a strong comeback however, with the final tune, the spiritual based, Creed-esque "Stigmatized." This track foreshadows a path that, if traveled, could very well lead The Calling to a new home on Alternative Rock Way.