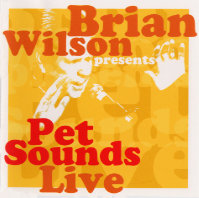 When Brian Wilson recorded the original Pet Sounds back in 1966, there was no way he could have foreseen the impact that it was about to make on the music scene. The album has influenced countless artists over the years. The Beatles, The Who, Neil Young, Todd Rundgren, Eric Clapton, and Pink Floyd (just to name a few) have all claimed to have been influenced by this landmark album.
Recorded at the Royal Festival Hall in London this past January, Wilson had his work cut out for him, to say the least. What would his voice be like after all this time? Would he still be able to hit the high notes? Yes and no. It's been documented that Wilson's voice is a bit 'worn,' but then again, you can't realistically expect it to be what it used to be either. Still, aside from lowering the key on a few of the songs, he turns in a surprisingly good performance.
Part of the credit for that goes to Wilson's 10-piece band, which includes members of the Wondermints and former Beach Boys session players. They get a chance to stretch out a bit on the album's two instrumentals, "Let's Go Away For Awhile" and the title track, which prompts Wilson to tell the audience, "I told you they're good!" Then there are the exquisitely harmonies, which the band managed to recreate wonderfully on stage.
The other thing that deserves special mention is the amount of attention that was paid to recreating the intricate details of the original songs (for example, the bicycle horn at the end of "You Still Believe in Me").
By the time you get to the end of "Caroline No" (which features a beautiful flute solo by Paul Mertens), it's obvious that the people who were lucky enough to attend one (or more) of these shows, witnessed something truly special. Is it as good as the original? No, but I've got to give Wilson an "A" for effort.
If you're already intimately familiar with this material, and especially if you were at one of the shows, you'll definitely enjoy this disc. If you're hearing this music for the first time, start with the original.