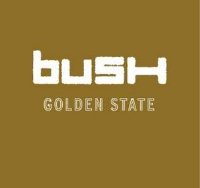 Bush is just one of many bands to arise out of the alternative rock revolution. While they are part of a vast minority of rock-based overachievers, they are also part of the growing majority of acts who made it big and are having some trouble rekindling the flame. Fans were hoping the band's fourth release, Golden State, would also be their golden ticket back on the road to glory. All there is likely to be however is much disappointment.
Bush's return was laced with bad karma from the beginning. As if renaming their first single in the wake of the World Trade Center tragedy from "Speed Kills" to "The People That We Love," wasn't drastic enough, front man Gavin Rossdale also was contemplating rewriting the track "Head Full of Ghosts" which contained the taboo lyric, "I'm at best when I'm terrorist inside." Besides the poor lyrical choice, this is actually one of the better tracks on an otherwise dud of an album.
There are several rock tunes on Golden State, but you'll be hard pressed to find ones that actually rock. Tracks like "Hurricane," "Fugitive" and Reasons," all don predictable rage and nearly identical bare bones basics. Then there is the most rotten apple in the bunch, the oddly titled, "My Engine Is With You," which proves to be the fastest and most furious, but also wins the title of the track most likely to crash and burn.
"Inflatable" and "Out of This World" are paint-by-number attempts at slowing things down a bit, but the heart of "Glycerine" and the energy and desperation of songs like, "Come Down" and "Swallowed," has all but evaporated.
The best song on the album goes to "Float" which does not carry nearly the amount of unprecedented baggage the other tracks do. Still, even "Float" seems created in a mindset long ago and far, far away from Bush's glory days. Instead, all Bush's Golden State manages to do is tarnish in the sun.