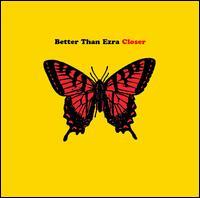 It's hard to believe it has been six years since the debut of Better Than Ezra's album, Deluxe. And yet on the eve of their latest release, the boys still seem to be managing to just keep their heads above water in the whirlpool of an abyss we call rock and roll. With the release of Closer, BTE is out to prove that they can continue to pump out the jams. And that's not to say that they don't. Plenty of the songs on the album are diggable tunes leaning towards a possibility of heavy rotation looming in the near future. The first single is "Extra Ordinary" which is an upbeat track that makes light, lyrical references to such acts as AC/DC and Barenaked Ladies. I question this song being the first one let out of the gate, but it's a solid tune all the same.
The first track on the album, "Misunderstood" seems perhaps better suited for that, 'Yeah. We still got it" vibe most somewhat established bands really want to convey. This song in particular is along the lines of BTE's older stuff and might have been the safest bet. And what album these days would be complete without the lighter inducing ballad? On Closer, that honor belongs to the title track--a tribute to the changes that happen after the birth of a child. "Lifetime," a song about losing an old friend is another consistent, slow tempo number.
My heart however, belongs to the bound to be underrated "Get You In." On peppier tracks like "I Do," the undeniably catchy hook of "Sincerely Me," and even on the Kid Rock/Limp Bizkit-like "Recognize," BTE scores high. As always, lead vocalist Kevin Griffin remains one of the main ingredients that continue to separate BTE's music from the rest.
It's a sad state of affairs when a band that has been kicking around the mainstream for four albums and over five years suddenly becomes the granddaddies of alternative rock. Still, with many of their 1995 airplay mates but a memory, that is exactly what Better Than Ezra has become. Part of me will always long for the exuberance of their first album. But considering how the alternative pop market has grown in a short period of time, I rejoice in the fact that they're still around to show the new kids how it's done.