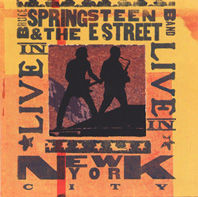 So far, everything I've heard and/or read about this CD has been positive. I just want to say that if you're expecting more of the same here, you're going to be disappointed--just like I was with this CD. Live in New York City is strictly for the fans, in particular those who were at the shows. There's been a lot of hype surrounding the song, "American Skin (41 Shots). While this is sure to boost sales among existing fans, there's too much filler (and/or just plain awful performances) on here to convert anyone. The songs included here were all taken from Springsteen's 10-night stand at Madison Square Garden last summer. Before I get too far into this review, I should point out that there are some decent performances here. You just have to program around the bad ones.
A better name for this CD would've been The Gospel According to Bruce (thanks go out to Entertainment Weekly for that one). Too much of it sounds like a sermon, with Springsteen preaching to the crowd. The prime offender is the bloated 16-minute version of "Tenth Avenue Freeze-Out." This song will have you lunging for the eject button on your CD player. The song itself is bad enough, without being stretched out like this. Then, to make matters worse, he lets Patti Scialfa sing part of "Rumble Doll" in the middle of it. I have to point out that prior to this release, I liked Scialfa's vocals, especially when she would harmonize with Bruce. However, in this particular instance, it's almost as if she's become Bruce's "Linda" (no offense intended toward Linda McCartney whatsoever).
Let's get into the individual songs. Disc one starts off with a rocking version of "My Love Will Not Let You Down." Not a bad start, although The Boss' vocals leave something to be desired. They don't get any better on "Prove it All Night" either, where he sounds like he just finished running a marathon. Musically, it's great, but the vocals just don't cut it. Surely out of all the shows he played at MSG, they could've come up with a better performance for the CD. Aside from "Atlantic City," things really don't pick up till he gets to "Youngstown" with its blistering guitar solo, and "Murder Incorporated." "Out in the Street," a personal favorite, is another disappointment, especially the vocals at the end. The best thing about the first disc is the unlisted bonus track--a great version of the New Jersey state theme song, "Born to Run."
Disc two is by far the better of the two CDs, aside from the 16-minute waste of plastic that I mentioned earlier. Once you get past that, things pick up considerably. The two new songs, "Land of Hope and Dreams" and the previously mentioned "American Skin," are up next. "Land of Hope and Dreams" is about twice as long as it needs to be, but both of these songs make worthy additions to the Springsteen canon--particularly "American Skin." In a move aimed at his longtime fans, Bruce goes all the back to his first album for a gripping version of the rarely played "Lost in the Flood." The other big surprise for most listeners will be the acoustic, delta blues version of "Born in the U.S.A." After a tepid "Jungleland" and the always boring "Ramrod," Springsteen wraps up the album with the ballad, "If I Should Fall Behind." Unfortunately, as on "Out in the Street," he decides to let everyone in the band have a chance at the microphone, effectively ruining the song. That's fine for guitarist Nils Lofgren. He's got a good voice & it's refreshing to hear him sing again. But do we really need to hear Clarence Clemons or Steve Van Zandt on lead vocals? I don't think so.
Live in New York City could've been a great album. Instead it's a mish-mash of good and bad performances, and poor editing/fades between songs. For such a high-profile release like this one, they should have taken the additional time to do it right. Bruce isn't going to win any new fans with this release. If you want to hear The Boss at his best, check out Live 1975-85. It's got better material, and more of it. This album is a fair souvenir for the people who saw the shows at MSG. Then again, those are the people who will know what's missing too.