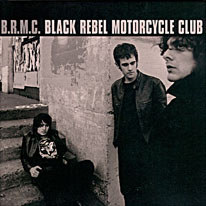 With bands like Radiohead, Coldplay and Travis clogging radio and MTV with their soft and sensitive style, it is no wonder the American bands are trying to duplicate that sound. San Francisco trio, Black Rebel Motorcycle Club (which took its name from the Marlon Brando movie, The Wild Ones) have studied and taken notes on the sounds of bands like Jesus and Mary Chain and Love and Rockets to become the alternative to the sensitive euro bands.
The debut CD from BRMC is a mix of sinister, hypnotic psychedelia. The band makes it a point to stay away from the soft lullabies of the other bands by bringing a crunchy blues-rock sound to their songs. "Rifles" and "Too Real" are a never ending wave of guitars and joyful vocals. Despite the album's potential, it comes across as a bit monotonous at times. "Love Burns" is the disc's highlight, blending a steady rock beat with droning guitars. Tunes like the dream-like "Too Real" and the folky "Screaming Gun" show off the band's musical diversity.
Black Rebel Motorcycle Club delivers a creative first disc, but they need to work on their distinct musical style before they can grow as a band.