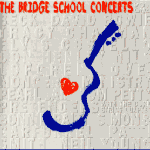 In the last few months, there have been a lot of live compilation albums released. There was the Conan O'Brien disc, the Letterman disc, the new 120 Minutes disc, etc. All of these have some interesting performances on them, but they lack a sense of cohesiveness. Most people won't play one of these discs in its entirety and enjoy the whole thing. When you see the eclectic group of artists on The Bridge School Concerts Volume One, you'd think the songs would go off in 15 different directions. This is not the case. The songs are all performed acoustically, and the disc has a natural flow to it--something the other CDs don't.
Since 1987, Neil Young and his wife, Pegi, have organized concerts to benefit The Bridge School -- a facility offering programs for children with severe speech and physical impairments. The artists perform without pay, and the proceeds from the shows go to the school. Take a look at the track list below and you'll the see some of the wide range of artists that have performed at these concerts over the years. What's that? You don't think Ministry belongs between Don Henley and Simon & Garfunkel? Trust me, it works. That's the thing that gives this compilation its charm -- the diversity.
Some of the many highlights include the tracks from Tracy Chapman, The Pretenders, Bonnie Raitt, Ministry, and David Bowie. The Bridge Concerts Volume One is a truly enjoyable CD, regardless of the type of music you like, and the proceeds go to a good cause. Hopefully, we won't have to wait long for volume two.
TRACK LIST:
I am a Child (Neil Young) * Shadow of a Doubt (Tom Petty) * All that You Have is Your Soul (Tracy Chapman) * Sense of Purpose (The Pretenders with the Duke String Quartet) * It's All in Your Mind (Beck) * The Road's My Middle Name (Bonnie Raitt) * Yes It Is (Don Henley) * Friend of the Devil (Ministry) * America (Simon & Garfunkel) * "Heroes" (David Bowie) * Nothingman (Pearl Jam) * The Battle of Evermore (The Lovemongers) * Believe (Nils Lofgren) * Alison (Elvis Costello) * People Have the Power (Patti Smith)