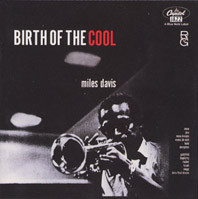 About two years ago, Capitol Jazz released The Complete Birth of the Cool. At that time, it was the definitive version of an album that has been hailed as one of the true greats in the jazz pantheon. The sound quality was better than any previous release, and the booklet was chock full of informative essays, photos, etc. What no one knew at the time was that the original master tapes had been sitting in the vault, untouched.
When Rudy Van Gelder went to prepare a new edition of the album for Japanese release, he discovered the original session reels. As you can imagine, the difference in sound quality is astonishing. As producer Michael Cuscuna explains, "This was the first time that Rudy had worked on these particular recordings, and he was surprised to find that every version subsequent to the original LP had used the 1957 12-inch master. But the original master tapes of each performance still existed, and they revealed significant improvements in sound."
Blue Note's Tom Evered added, "To set the record straight, we would not have issued the Birth of the Cool RVG if Rudy had not found the session tapes. We were not eager to issue a third edition of the BOTC but we felt we had to given the improved sound." Anyone familiar with the album prior to this new release will notice the difference in sound immediately. It's much more vivid and full, allowing you to fully appreciate the complexity of the nonet's arrangements. It's like you're hearing the music for the first time.
This brings us to the all-important question: which one do you buy? The answer is simple--both. The booklets in both are excellent (with different material in each). The sound quality on The Complete Birth of the Cool isn't as good (although it's definitely not bad), but it contains all of the available live tracks from the group's performances at The Royal Roost. The RVG version doesn't have the live tracks, but it has better sound. The choice is yours. Whichever way you decide, Birth of the Cool is an essential part of any jazz collection.