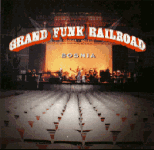 Noted Grand Funk Railroad fan, Homer Simpson, once described what made this band so great: "the wild, shirtless lyrics of Mark Farner; the bone-crushing bass of Mel Schacher; the competent drum work of Don Brewer." I've been a GFR fan from the first time I heard the band's excellent E Pluribus Funk album back in '71. Although I was skeptical when I heard that the original trio of Mark, Don & Mel were going to tour after almost 20 years, I quickly became psyched when I heard they would be performing with an orchestra. Talk about alot of equipment financing, not to mention planning on their part.
Few American bands back then could compete with Grand Funk when it came to sheer power on stage. To these ears, their 1974 live album, Caught in the Act remains one of the best live albums ever recorded. Needless to say, they had some pretty high standards to live up to. After the orchestral intro from Also Sprach Zarathustra, they launch into a slightly rusty version of "Are You Ready." Brewer's vocals aren't quite as strong, and Farner's guitar is missing the ballsy sound heard on the studio version.
But things pick up quickly. "Rock and Roll Soul" is next, and the band starts to loosen up. By the time they get to "Footstompin' Music," the band is firmly in the groove and kicking some serious ass. Peter Frampton joins the band onstage for the first of a handful of tunes, the bluesy "Time Machine." One of the best tracks on Bosnia is the medley of "Paranoid," "Sin's a Good Man's Brother" and "Mr. Limousine Driver." By this time, I'm wondering how this disc can possibly get any better.
"Aimless Lady" features another special guest-sax player Alto Reed (from Bob Seger's band). Brewer gets to show his abilities on the early classic, "T.N.U.C.," before moving onto a great rendition of "Inside Looking Out," featuring some outstanding guitar work from Farner. After a short, but still great "Shinin' On," they go into their cover of "The Loco-Motion" (featuring Frampton & Reed). This song has always been a set killer for any true GFR fan, but they do a decent job here.
Disc Two starts with a short orchestral medley of a few of the band's signature songs, then segues into "Mean Mistreater." One of the biggest surprises on Bosnia is "To Get Back In." Originally on the Shinin' On album, this was one of those songs that was never really bad, but nothing spectacular either. Here it's presented in a new light with a horn section (led by Reed), and Farner soloing effortlessly over the end section. This one gets my vote for most improved song.
When it comes to true rock classics, few can deny that "I'm Your Captain/Closer to Home" fits the bill. It's always the highlight of any concert that it's performed in. Playing the song live with an orchestra was "a dream come true" for Farner, and it shows. Even the most jaded fan will be moved when they hear this new version. Out of all the songs included on Bosnia, the one I anticipated the most is "Loneliness." The studio version featured an orchestral arrangement, and now we finally have a live version to compare it to. Did it live up to my expectations? You bet.
Bosnia is required listening for any Grand Funk fan. There are only bad things--most of the time you can't hear Mel's bass, and the second disc is WAY too short. Other than that, these 2 CDs have been getting played repeatedly, and show no sign of letting up. If you're not a fan, go to your local music store, buy this CD and find out what you've been missing.