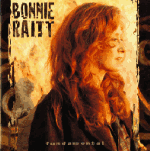 On her new album, Bonnie Raitt set out to shake things up a bit. Her last few studio albums, while they were all big sellers, seemed to be aimed right at the MOR crowd. "I loved working with Don Was, Ed Cherney and my band on my last four albums, but I wanted to give myself and my fans a stretch and do something different," said Raitt. On Fundamental, she did just that. The CD features 11 new tracks, covering the gamut from blues to reggae, rock to R&B, and soulful ballads. The big difference this time out is the production. Mitchell Froom and Tchad Blake handle the chores this time, along with Raitt herself.
The glossy production work is gone, and replaced with more of a bare bones, rootsy approach and the result is one of her best albums to date. "The Fundamental Things" is a perfect example of the bluesy, back-to-basics kind of tunes that her longtime fans have been yearning for. She picked some great songs for the new record and has a great backup band as well, with members of Los Lobos and NRBQ helping out. Raitt shows her seductive side on "Cure For Love" (one of her favorites on the new record), and absolutely sizzles on "Spit of Love." The latter is one of the best tracks on the CD, featuring a killer slide guitar solo. Other highlights include "Meet Me Halfway" with its cool rhythm section, and the reggae-tinged single, "One Belief Away."
Fundamental is quite a departure for Raitt. She takes chances where she previously might have played it safe, and has created a fine new album. If you're already a fan, you're gonna love the new disc. If you're not a fan, pick up a copy of Fundamental and see what you've been missing. Bonnie's back, and she's better than ever.