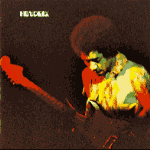 Band of Gypsys was one of the most innovative albums of its time. It combined elements of rock, blues, and funk into something never heard before. Hendrix fans have been awaiting the US vinyl reissue of this album ever since Experience Hendrix (the family-owned company) attained the rights to Jimi's music. For this review, I compared the Classic Records vinyl pressing with the new (non-US) vinyl and CD pressings from MCA / Experience Hendrix.
As far as packaging, the three releases were almost identical. All three include the new booklet. The big difference is in the sound quality. While none of them sound bad, Classic Records has the decisive edge on the others. "Who Knows" (along with the rest of the album) had noticeably less hiss than either of the MCA releases. The bass response on the album's centerpiece, "Machine Gun," is outstanding-deep and full, yet never muddy. Jimi's guitar screams loud and clear on "Power of Love."
The new vinyl pressing from Classic Records has a much more balanced sound than either of the MCA versions. On the MCA CD, "Message to Love" had too much high end, and Buddy's drums were pushed up too far in the mix. Neither one of these present a problem on the new version from Classic Records. If you're one of the many Hendrix fans who love this album, it's time to open up your wallets once again. The definitive version of this pivotal album is now available.