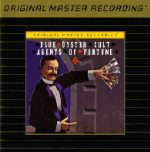 Agents of Fortune was a major turning point for Blue Öyster Cult. It had been four years since their last effort, and this time, they went after a new sound on several of the songs. Tracks like "True Confessions" and "Debbie Denise" took an almost pop stance. It turned out to be a good decision on their part though, as the album eventually went platinum and earned the band their biggest hit, "(Don't Fear) The Reaper." It also signaled the direction the band would take in future albums.
Don't get me wrong, they still rock out. They didn't give up the trademark BÖC sound either. The songs still conjure up dark images of the occult (the band's logo is the ancient symbol of Cronos--the Titan god who ate his son, the Grim Reaper). There are still plenty of killer solos from guitarist Donald 'Buck Dharma' Roeser too, as you'd expect. But where the disc really shines is on the quieter tunes like "(Don't Fear) The Reaper," "The Revenge of Vera Gemini," and "Morning Final" where the eerie atmosphere and ambiance of the songs really stand out.
The original album never sounded bad, but Mobile Fidelity took this classic album and made it sound even better. Check out the channel separation on "Tenderloin" and "E.T.I (Extra Terrestrial Intelligence)" with a pair of headphones and you'll see what I mean. Also, kudos go out to Mobile Fidelity for including the lyrics (which were not included in the original album), and insightful new liner notes by Roeser detailing the recording process. Agents of Fortune is one of BÖC's greatest albums, and hopefully the first of more audiophile releases from the band in the future.