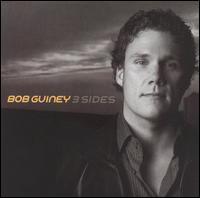 Nearly a year ago, America was on a first name basis with a man simply known as Bob. Only they didn't become smitten with him because of his music. They fell for the Bob "Looking For Love In All The Wrong Places" Guiney, one successful component of ABC's Bachelor/Bachelorette franchise.
But long before Guiney was known to millions as "Bachelor Bob" he was known to some as one member of the little known rock outfit, Fat Army. Fat Army had some success, but eventually fizzled out, leaving Guiney pursuing a solo career and meeting up with mostly closed doors. Then came his brush with reality television. Eventually Guiney signed with Wind Up Records, and the resulting album Three Sides was released faster than you can say, "will you accept this rose?"
Although Guiney the musician seemed to appear out of nowhere, it is clear after one listen that he has been working on his career for a long time. There is no slick over production fabricating vocal delivery and no spoon fed recordings as Guiney had his hands in all aspects of this project.
The first single is the engaging "Girlfriend," which carries a bittersweet sentiment about the desire for love, sung from the perspective of a lost soul. The self-doubt loop continues on tracks like "So Wrong," "Come Undone" and the perfect title for a book on the reality TV experience entitled, "Temporary Life." In fact, many tracks on Three Sides reveal just that--other sides of a man so many people spent weeks watching, but never got to know nearly as intimately.
Throughout "Three Sides," Guiney establishes himself as both a heartfelt songwriter and a sweet sounding vocalist. While he sometimes sounds like he fits in with other popular performers, he manages to maintain a clear sense of musical identity, successfully dodging over the top arrangements or cookie cutter craftsmanship. Those who watched Guiney on television, stumbling upon Three Sides because of his otherwise unconnected celebrity, will note a comforting sameness in the man looking for the one, and the man looking for a chance to be heard musically. Being one of 'America's hottest bachelors' might have (finally) opened some doors that would have otherwise remained closed. Despite how he got there, Guiney clearly has the chops to stick around.