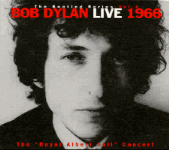 It's been called the most famous bootleg of all time. Whether that's actually true or not is a matter of opinion, of course. However, the one thing you can't argue is the significance of this tour; and more importantly, this particular show. Dylan's performance at Manchester's Free Trade Hall on May 17, 1966 (and the bootlegs that followed) set the music world on its ear. Tapes of this show have been circulating for years, but this is the first time it's been officially released.
For those of you who may not be familiar with this concert, the first half was just Dylan and his acoustic guitar. He was in fine form and turned in a gripping solo performance. The audience was ultra quiet during the seven songs. They had heard most of them several times before. It was familiar territory. They were comfortable. Then came the second half. The crowd had no idea that what they were about to experience would change the face of rock music as they knew it.
The second set opened with Dylan and his backing band, The Hawks (which later became The Band) ripping through a raucous version of "Tell Me, Momma." By the end of "I Don't Believe You," the crowd is getting unruly and starts heckling the band. Dylan's unfazed by it; he's doing what he wants. They crank out a killer rendition of "Just Like Tom Thumb's Blues," featuring a great guitar solo by Robbie Robertson. The audience tries to drown them out, but they're no match for the energy pouring from the stage.
After a couple more songs, and more heckling and catcalls from the audience, Dylan walks over to the piano for a stunning "Ballad of a Thin Man." The crowd still won't give up. Someone yells out, "Judas!" Dylan replies, "I don't believe you… you're a liar." Then he turns to the band and snarls "play fucking loud!" Drummer Mickey Jones slams his snare like his life depended on it, and they kick into the best version of "Like a Rolling Stone" you've ever heard.
Live 1966 is a great performance from one of the most important performers of our time. Sure, lots of bands nowadays do an acoustic set and then an electric set. But in retrospect, no one had ever heard anything like this before, and the sense of tension and excitement in the air that night is undeniably apparent on the CD. Even if you're not a Dylan fan, this CD is an essential part of any collection. Without question, one of the year's best CDs.