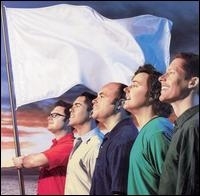 Although the Barenaked Ladies have been around for years, they have been lucky enough to have a shelf life to match. Many bands have come and gone since Barenaked Ladies first got big with hits such as "One Week," "If I Had a Million Dollars" and "Pinch Me." In fact, BNL's kitschy humor and nonsensical lyrics are often the stuff one hit wonders are made of. Instead, BNL has made a career out of striving for the quirky and reaching for the unexpected. The result is the eclectic yet fitting collection, Everything to Everyone.
From the first track, "Celebrity," the listeners know they are in for more of the tongue in cheek social commentary that BNL have all but put a patent on. With "Maybe Katie," there is also more of the same, sans the social spoof.
"Another Postcard" fulfills the catchy quotient and is reminiscent of "One Week"'s silly, sped up banter. Meanwhile, BNL prove they know how to diversify as seen on tracks such as the country-tinged ballad "For You," and the tango inspired "Upside Down."
Also present and accounted for is BNL's serious side, as seen on the more melancholy tracks "War on Drugs" and "Take it Outside," a somber tune about the guffaws of anger management. "Have You Seen My Love" waxes nostalgic and is a throwback to an old Elvis ballad.
Unfortunately, the song you are most likely to hear off the collection is the somewhat grating yet simplistically styled "Shopping." It is only a matter of weeks before the track is heard all across Target Christmas promo spots everywhere. Marketing genius? Yes. A great example of songwriting? Not necessarily.
While the second half of Everything To Everyone loses steam a bit, the ladies have still successfully proven that it ain't over…yet.