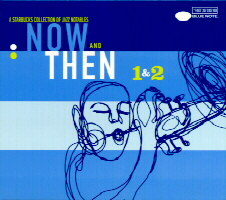 It's not often that we review CDs like these. We normally prefer that you be able to find them in your local (or online) music store. But in this case, we had to make an exception. Starbucks, in association with Blue Note, has released a series of specially priced samplers featuring some of the label's best known material from the last 50 or so years. Whether you're a seasoned listener or someone looking to discover the best of what Blue Note has to offer, these are great CDs to add to your collection.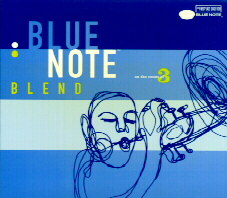 Originally released in 1995, the first disc concentrates mainly on the older material, with tracks from Nat 'King' Cole, Count Basie, and Thelonious Monk. It also features vocal cuts from the likes of Billie Holiday, Louis Armstrong (who turns in a vocal performance of the Duke's "C Jam Blues") and Sarah Vaughan. The only song on this CD released after 1990 is US3's "Cantaloop." Disc two debuted in 1996 and dives into the newer Blue Note artists a bit more, with tracks from Holly Cole, Jacky Terrasson, and the Charlie Hunter Trio featured along side standards from Cannonball Adderley and Donald Byrd. On the Count of 3 gets a bit more into the label's newer artists, intermingling Cassandra Wilson and Renee Rosnes with classic tracks from Chet Baker and Lou Donaldson. But as you can see from the track lists below, all three discs offer a wide sampling of great jazz.
Liner notes for the first and third CDs are informative and well done. The booklet in disc two contains more photos than the other two discs, but offers little in the way of information on the contents other than song titles & who wrote them. The only other bad thing about these discs is that they're not available outside of Starbucks stores (and/or their website). So if you're like me & you don't drink coffee, you'd never know that these CDs exist. As a special bonus for consumers, Starbucks has decided to repackage the first two discs together, giving you a second chance to pick up on these fine discs. Don't miss out.
TRACK LISTS:
Blue Note Blend 1: I Get A Kick Out Of You - NAT KING COLE * You Stepped Out Of A Dream - SARAH VAUGHAN * Lullaby Of Birdland - COUNT BASIE * Le Coiffeur - DEXTER GORDON * Let's Get Lost - CHET BAKER * Straight No Chaser - THELONIOUS MONK * Blue Train - JOHN COLTRANE * Duke's Place - LOUIS ARMSTRONG/DUKE ELLINGTON * Song For My Father - HORACE SILVER * Detour Ahead - BILLIE HOLIDAY * Minor Yours - ART PEPPER/CHET BAKER * Autumn Leaves - CANNONBALL ADDERLEY * Cantaloop - US3
Blue Note Blend 2: Monologue "A Cooking Session" - ART BLAKEY * Duid Deed - BUD POWELL * Man From Monterey - DIZZY GILLESPIE * Just for the Fun of It - NAT 'KING' COLE * One for Daddy O - CANNONBALL ADDERLEY * Lush Life - NANCY WILSON * Coffee Pot - JAYJAY JOHNSON * But Not For Me - CHET BAKER * DatDere - ART BLAKEY * Little Boy Blue - HOLLY COLE * Wornell's Yorkies - CHARLIE HUNTER TRIO * All My Life - JACKY TERRASSON * The Sidewinder - LEE MORGAN * Cristo Redentor - DONALD BYRD
Blue Note Blend 3 - On the Count of 3: Midnight Blue - KENNY BURRELL * Maiden Voyage - HERBIE HANCOCK * Tico Tico - GRANT GREEN * My Funny Valentine - CHET BAKER * Key Largo - SARAH VAUGHAN * The Witch Doctor - ART BLAKEY * Just a Blues - JACKY TERRASSON * Satin Doll - DR. JOHN * Children's Song No 3 - RENEE ROSNES * I Can't Stand the Rain - CASSANDRA WILSON * Somethin' Else - CANNONBALL ADDRELEY * Alligator Boogaloo - LOU DONALDSON * The Beat Goes On - PATRICIA BARBER