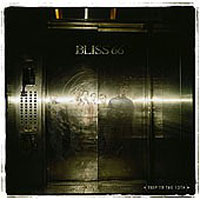 The first time I heard Bliss 66 (who at the time just went by Bliss), was on the Titan A.E. soundtrack. While the movie failed to grab my attention, Bliss 66's song "Not Quite Paradise" did. For months after the fact I tried to find out more about the band but to no avail. All the time I was looking for more information, little did I know that the group was busy primping to be the next big thing. Backed by powerhouse producer Glen Ballard, Bliss 66 has put together a collection of strong tunes on their debut release, Trip to the 13th.
I'll admit that it is tempting to want to write off Detroit's Bliss 66 as just the latest in a long, long string of alternative rock clichés. One thing does set them apart from their predecessors though and that is their 'pretty boy' image. While there have been plenty of bands whose appeal relies heavily on the looks of their lead singer, Bliss 66 is a rare gang of equally good looking guys ranging in ages 19-23 who are more likely to rival *NSYNC than Vertical Horizon. Whether this image will work to their advantage or disadvantage is still too soon to say.
Another undeniable fact is that the guys have talent. Group members, and polar opposites, Cheyenne Goff and Aaron Schossau co-write all of Bliss 66's material. Cheyenne draws heavily from hip-hop influences, while Aaron admittedly has roots in Top 40. It's the combination of these sounds that make Bliss 66 unique.
Shooting for everyone from junior high kids to adults in their 30s, Bliss 66 makes no excuses for making music that appeals to the masses. Although the album is typical alternative fare, Cheyenne Goff's lead vocals are notably striking. The first single off Trip to the 13th is "Sooner or Later," a smooth attempt at a radio Top 40 hit. This isn't the only good song on the album either. "Trip" is a little bit Collective Soul, while "Ain't This the Feeling" and "Live" have charm as well. Something about "Do It Again" ironically sounds like it could have been just as easily a boy band tune in an alternate music universe.
Bliss 66 also shows promise with the different, edgier sound of "Letting Go," as well as the timely tribute "Crazy World," written in honor of the Columbine High School tragedy. Finally, there is the last track, "Defense," which is a bit reminiscent of Night Ranger of all things, whose beautiful piano is a perfect backdrop set to serious lyrics. The only thing I disliked about this tune was that it could have been kept at a consistent slower tempo and been just as good, if not better than the version Bliss 66 went with.
After searching for so long for the band behind "Not Quite Paradise," Trip to the 13th proves that my desire to hear more was not in vain. Even though Bliss 66 might have to do a little more soul searching to be the next big thing, they do have what it takes to get there.