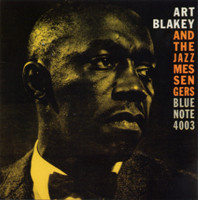 One of the best things about Classic Records is the amount of attention they pay to detail. Not only in terms of the music itself (which, of course, is what's really important), but the packaging as well. In the case of the label's Signature Blue Note Series (all the titles are 200g mono pressings); they replicated the original Blue Note design to a tee, all the way down to the flat, non-'groove guard' profile. Groove guards were the raised outer edge that prevented records from getting scuffed when played on an automatic changer. The labels have the "33 1/3 microgroove long playing" notation on them, plus the deep groove that is so desirable to the true Blue Note collectors out there. And if that wasn't enough, they even used a 'tip on jacket' (paper affixed to cardboard) for that added touch of authenticity.
While "Moanin'" may have been the first real 'hit' for the group, the album's real gem is the leadoff track on side two--"The Drum Thunder (Miniature) Suite." Not only did Blakey have great rhythm; he had a keen sense of melody when he played. From the moment the ambitious three-part suite starts, the track gives your speakers a true workout, showcasing the explosive style that would become Blakey's musical calling card.
If you thought the recent RVG remaster sounded good, wait till you hear the album in its mono glory. You won't be playing that CD anymore. The detail and definition found throughout the album's six tracks is nothing short of breathtaking. However you choose to refer to it, this album is an essential part of any jazz collection.